D.J. Monroe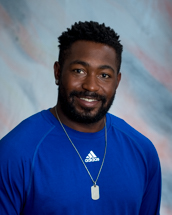 Email
Coach - Transportation Coordinator
Phone: 361-573-2446 x230

Bachelor's of Science in Applied Learning and Development - University of Texas at Austin
Mr. DJ Monroe has been an athlete and admirer of sports his entire life and continues to show his interest in sports through coaching. He began coaching as an assistant coach in football and track at St. Joseph High School in 2013. Prior to that Monroe successfully completed 5 years of football and 3 years of track and field at The University of Texas. Monroe also played in the National Football League for 1½ years upon graduating college. He began his teaching career at St. Joseph High School in 2016 and serves as the ahtletics coach/instructor. He is currently the head track coach and assistant football coach.
What do like about teaching and coaching at St. Joseph High School?
I enjoy being a part of the St. Joseph staff because I get the opportunity to offer my knowledge to the students and watch them succeed. Also, I appreciate the incredible rapport among the staff at STJ. My main priority at St. Joseph is the students and their future. I look forward to every day knowing that I can make a difference in a child's life, one way or another. I see the students growing spiritually, mentally through academics, and physically through sports. All of these are shaping them to become fearless leaders as they continue to move forward in life.